Reseller Hosting is a type of web hosting that allows businesses, developers, designers, entrepreneurs, and startups (the reseller) to purchase web hosting packages at wholesale prices. They can then provide these services under their own brand name (white label) and sell them to customers at a profit.
Frequently Asked Questions (FAQs)
What is Reseller Hosting in Nigeria?
Reseller hosting is a business model in which you buy server space and bandwidth from a hosting company and then resell it to your own clients for a profit.
That said, reseller hosting is an ideal business model for anyone who wants to start an online business but doesn't have the money to invest in their own servers.
At the same time, reseller hosting is a great way to get started if you're looking to experiment with website hosting before going all in on this business.
How Does Reseller Hosting Work?
After choosing a Hosting Reseller plan, you will receive cPanel credentials to the Web Host Manager (WHM) program portal. It's from WHM that you can create your own plans.
Hosting plans/packages allow you to create cPanel Hosting accounts and manage them. Proceed to link WHM to the billing software (WHMCS), to allow automated provision, suspension, and termination of hosting account on creation, expiry, and termination events.
What is the difference between Reseller Hosting and Shared Hosting?
Consider Reseller Hosting as the server environment that provides shared hosting. In other words, Reseller Hosting comes with more access and permissions to resources than Shared Hosting. If Reseller Hosting was the parent, shared hosting would be the child.
Reseller accounts allow the creation and management of multiple shared hosting accounts.
Benefits of Starting a Reseller Hosting Business
If you are thinking about starting a business and reseller hosting in Kenya is one of the options that you are considering, then there are some definite benefits to getting into this business.
a). Reseller Hosting Can Be Very Profitable
Reseller hosting can be very profitable, which is one of the main reasons why so many people choose to start their own hosting business. As long as you have money to invest in your business, then reseller hosting can be a great way to make money.
b). Reseller Hosting Is Easy To Start And Scale Up
Hosting is a very easy business to start, and if it works out for you, it's also easy to scale up as well.
You can get started with just a Ksh 1000 per month in initial investment if you want to keep things on the small side.
But if your reseller hosting business takes off and starts bringing in more money than you anticipated, then you can always scale up and invest more money into your servers down the road.
c). Reseller Hosting Can Be Successful In A Variety Of Niches
One of the great things about reseller hosting in Kenya is that it's not just limited to any specific niche market or industry. Reseller hosting isn't just for web designers or web developers or even companies that offer services related to computers and technology.
Reseller hosting can be successful for anyone who wants to offer website-related services because all people need websites these days whether they realize it or not.
d). Reseller Hosting Can Be A Great Way To Make Money From Home
If you are looking for a way to make money from home, then reseller hosting in Kenya is a great opportunity that you can take advantage of.
Most people who start their own hosting business do it from home, and they don't even need an office or any kind of large facility to get started.
All you need is a little bit of extra space in your home where you can put some servers and start selling hosting services to your customers.
How to Get the Most Out of Your Reseller Account
Your main goal as a reseller should be to offer your customers the best possible service at the lowest possible price because if they are happy with what they get, they will come back time and time again!
When it comes down to it, reselling hosting services is really just offering your customers a convenient way of getting things that they need quickly and easily. This is why customer service is so important – if people have problems with their accounts or have questions about how things work, then they won't be happy and will probably go somewhere else next time!
Once you have built up an audience of clients who trust you enough to let you host their websites on your servers, it should be relatively easy for you to make money from running your business. You could even go one step further and offer them additional services such as domain name registration, email hosting, SSL certificates, and other things that they might need.
One of the best things about reselling hosting is that you can do it from anywhere in the world. In fact, you don't even have to be working in a physical office at all!
This makes it a great option for anyone who wants to start their own business but doesn't have a lot of money to invest in starting up or running it.
So if you want to start your own business but don't have much money, then reselling hosting could be a good choice for you. You can get everything that you need quickly and easily without having to spend money on things like offices or equipment.
How do I become a hosting reseller?
It's simple and straightforward.
Start by selecting the product to resell. Some of the products to resell include: Domains, Web hosting, VPS and Dedicated Servers, SSL Certificates, e.t.c
Select Truehost Reseller plan – Bronze, Silver, Gold, and Platinum depending on the scale of the venture.
After selecting and paying for the plan, Truehost customer success personnel will get in touch to guide on the setup on the billing software- preferably WHMCS.
Create a website or storefront to market your products, you can use common CMS like WordPress or Site builders like OLITT and Wix to set up your website/storefront.
Remember to link your website/storefront with the billing software.
The two common software with Reseller and Shared hosting are Web Host Manager (WHM) and Web Host Manager Complete Solution (WHMCS) Kindly note these are different and provided by different companies. WHM is a program or portal that gives administrative access to the back end of cPanel, whiles WHMCS is billing software that automates your billing and support services. Both software are crucial in the Reseller hosting Business.
Does Reseller Hosting include Email Hosting?
Ooh Yes! Reseller is able to allow unlimited email accounts as well as Email Authentication and POP3/IMAP features for every shared hosting account.
Is Reseller Hosting Profitable?
Yes, reseller hosting can be profitable. It's a great way to start a web hosting business with minimal investment, and there is a growing demand for reseller hosting services. However, it's important to choose the right hosting provider and plan to market your business effectively.
What is cPanel reseller hosting?
A cPanel reseller hosting account allows you to create and manage your own web hosting accounts using the popular cPanel control panel. This type of account provides an excellent way to get started in web hosting and is perfect for small businesses, web designers, and developers.
What are the advantages of Reseller Hosting?
There are many advantages to reseller hosting. First, it is a great way to start your own web hosting business. You can buy space from a larger host and then resell that space to customers. This can be a great way to make some extra money on the side. Second, it is a good way to get started with web hosting if you are not sure if you want to start your own hosting company.
What is the difference between web hosting and Reseller Hosting?
Web hosting is a service that allows organizations and individuals to host their own websites on a server. Reseller hosting is a type of web hosting in which a web hosting provider sells space on their server to other customers, who in turn can sell that space to their own customers.
Related articles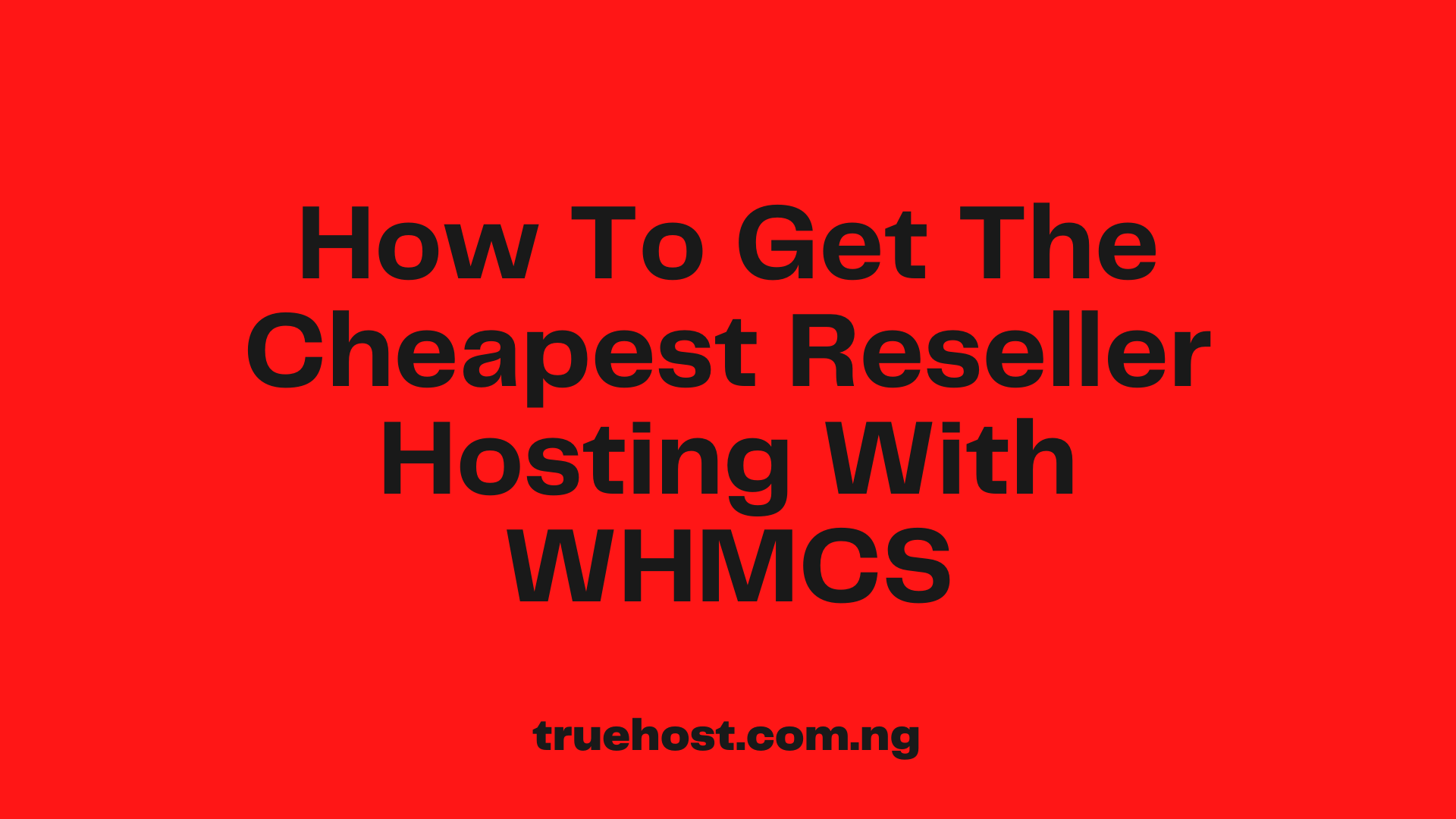 If you're considering setting up a hosting reseller business? Then we have written this article to expose you to the ways to get the cheapest reseller hosting with WHMCS packages. Reseller hosting is considered by many to be one of the best paths to make money legitimately online in recent times. It is certified by …
Continue reading "How To Get The Cheapest Reseller Hosting With WHMCS"
Are you considering setting up a domain reseller business? In this article, we will show you how to get the cheapest domain reseller package and all other important things to know about domain reselling. Domain reselling has become one of the top ways to make money online nowadays. However, to make maximum proceeds and profit, …
Continue reading "How To Get The Cheapest Domain Reseller Package In Nigeria"