A virtual Private Server Hosting that gives 100% control.
Truehost Cloud VPS hosting comes with Total Power, Total Speed, Total Security, Total Flexibility, & Total Reliability for mission-critical projects.
Provision of a production-ready VPS in 58 Seconds
Fastest Cloud Servers – LiteSpeed Servers
What to Expect with Truehost Cloud Virtual Private Servers Infrastructure?
Un-throttled Network Bandwidth – 100MB/s
Truehost Cloud VPS infrastructure is built for performance, running with the latest hardware including Intel Xeon and AMD Ryzen processors, 512 GB RAM, and blazing fast NVMe SSD Disks.
The platform provides enough power to process thousands of transactions per second.
Every VPS comes with an un-throttled network connection of 100MB/s bandwidth to allow instant transfer of data in and out of the VPS.
Additionally, every host is connected to a redundant network link to ensure 99.999 network uptime.
Every VPS comes with a clean IPv4 IP address and an optional IPv6 IP address running on a secure and reliable platform. Enjoy latency-free VPS Servers.
Truehost Cloud VPS infrastructure supports Backup on demand, scheduled demand, and live snapshots; ensuring security and flexibility with data.
Enjoy a highly flexible and accessible VPS server. Every VPS comes with Root Access for customers to take full charge.
Truehost Cloud VPS Infrastructure support multiple security provisions for a Total Security experience. Some of the provisions include advanced AntiDDoS protection and a highly configurable Firewall that give customer additional options.
What Customers Say about Truehost Cloud VPS
1 click scalability
Truehost Cloud VPS support 1 click upgrade option, this is very popular with customers who love the freedom to scale the resources on demand.

1 Click application hosting
Customers love the ability to launch applications with a click. Try 1-click WordPress, MYSQL, and Cyberpanel deployments.
Multiple Data Center Location
Truehost Cloud infrastructure run across multiple data centers across all the major continents. Check out your favorite data center location.
Ease of Management
Truehost Cloud VPS provides an easy-to-use management panel designed to make the experiences of both developers and non-developers customers smooth.
High Performance
Customers have lauded the performance of their VPS Servers for different use cases including web hosting, database hosting, application hosting, forex, and gaming among others.
Full Control
Full root access is another feature that customers love.

VPS Hosting FAQs
Here are answers to all of your VPS hosting questions.
A VPS is a virtual private server, which is a type of hosting service. It's like having your own little computer that you can customize to your needs.
Is VPS hosting affordable in Nigeria?
VPS hosting can be affordable, depending on individual needs and preferences. Generally, VPS hosting is more expensive than shared hosting but less expensive than dedicated server hosting. Some VPS hosting providers in Nigeria offer affordable pricing and flexible plans that can be customized to meet individual needs and budgets.
VPS hosting is a type of web hosting that uses virtual servers. With VPS hosting, each website is hosted on its own server, but shares resources with other websites on the same server. This type of hosting is ideal for small businesses or websites that experience high traffic volumes.
What project suits VPS Hosting?
In general, VPS hosting may be a good option for projects that require more control and flexibility than shared hosting can provide, but do not need the resources or power of a dedicated server. For example, a small eCommerce site or blog might be a good candidate for VPS hosting.
Difference between VPS Hosting and Shared Hosting?
Shared hosting is when you share a server with other users. This can lead to some instability and performance issues because you are sharing resources with everyone on the server. VPS hosting gives you your own slice of a dedicated server, so you don't have to worry about other users impacting your service. This can provide better performance and stability for your site.
In general, yes. VPS hosting can provide better security than shared hosting because each user has their own isolated environment. However, it is important to choose a reputable and secure provider to ensure that your data is safe.
Do you provide dedicated IP address for VPS?
Yes, we provide a dedicated IP address for each VPS.
What is a Dedicated Server?
A dedicated server is a single physical machine that is leased to one customer. The customer has full control over the server and can choose to run any operating system or applications they desire. Dedicated servers are more expensive than VPS hosting, but can provide better performance for high-traffic websites or resource-intensive applications.
What is the difference between VPS and a dedicated server?
While VPS hosting simulates a dedicated server within a shared hosting infrastructure, a dedicated server involves renting out an entire physical server for exclusive use. Dedicated servers provide more resources and customizability compared to VPS hosting, but are generally more expensive and require more technical knowledge to manage.
What should I look for in a VPS hosting plan?
When looking for a VPS hosting plan, it's important to consider factors such as server specifications (including CPU, RAM, and storage space), operating system options (such as Linux or Windows), control panel options, support team availability and responsiveness, backup solutions, and pricing.
Can I install custom software/scripts on the VPS?
Yes, you can install any custom software or scripts that you need on your VPS. However, it is important to ensure that the software is compatible with the operating system and other applications that are running on the server.
What is a control panel in VPS hosting?
A control panel is a web-based interface that allows website owners to manage their VPS hosting environment, including tasks such as installing software and applications, managing databases, monitoring server performance, and configuring security settings.
Can I easily upgrade my VPS hosting plan?
Yes, you can upgrade your VPS hosting plan at any time. This can be done through your clientarea.
What operating systems are available for VPS hosting in Nigeria?
Some common operating systems available for VPS hosting in Nigeria include Ubuntu, Debian, and other Linux-based distributions.
What is KVM in VPS hosting?
KVM stands for Kernel-based Virtual Machine, which is a type of virtualization technology used in VPS hosting. KVM enables website owners to create a fully virtualized environment that simulates a dedicated server with its own set of resources.
What kind of Support is available for VPS Servers?
We offer 24/7 support for our servers. This means that you can contact us anytime if you have any problems or questions about your service.
How do I backup my VPS Data?
When your business is reliant on technology, data loss can be catastrophic. That's why it's important to have a reliable backup system in place for your VPS. There are a few different ways to back up your data. One option is to automate weekly backups using a tool. Alternatively, you can use the Snapshot tool.
What are the data center locations where I can get VPS?
Our data centers are located in:
London
Frankfurt
Montreal
Vint-Hill, Virginia
Strasbourg
Sydney
Singapore
Nairobi
Johannesburg
What is SSH Access, and how does it work?
Secure Shell, or SSH, is a protocol used to securely log in to remote servers. It's often used when you need to access a server remotely to run commands or transfer files. SSH access can be granted through an SSH key, which is a long string of characters that you create on your computer. When you're ready to log in to the server, you simply enter the key into the login prompt. The server will then check the key against its list of authorized keys and grant you access if it matches.
Related posts: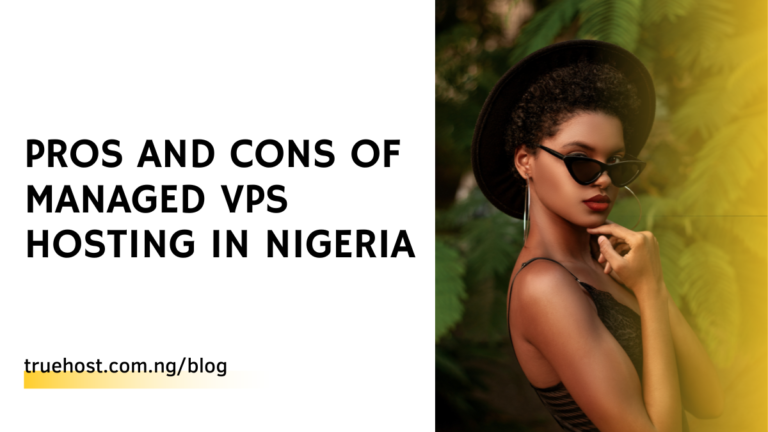 VPS hosting stands for Virtual Private Server Hosting. All hosting happens on a server that acts as a house for a website. VPS is a server that relies on virtualization technology software that allows hosting providers to create several virtual machines on a single physical server. Virtual servers operate independently and they have their own …
Continue reading "Pros and Cons of Managed VPS Hosting in Nigeria"