In this article, you will learn everything about domain name search in Nigeria.
Before we get started, did you know that the number of internet users in Nigeria increased by 19 million (+22%) between 2020 and 2021?
That's right.
The number of Nigerians that can access the internet now stands at 104.4 million as of 2021.
Why am I telling you this?
If there is the right time to start an online business, it is now!
Today more than ever, Nigerians are swarming online in the look of information.
Be it gossip, news, or shopping.
And talking of online shopping in Nigeria, most of us are relying on reviews of others to make buying decisions.
Additionally, 8 in every 10 Nigerians first look up the business online before committing to buy.
Simply put;
If you don't have an online presence, you are leaving a ton of money on the table.
And what is a better way to kickstart your online journey than searching a domain name, right?
What is domain name search in Nigeria?
Domain name search means you are ascertaining that your preferred website name is available.
Why?
Well, it turns out, you were not the only one to get an idea of starting a website in Nigeria.
And just like you, the other person needs to register a domain name.
Spoiler alert!
Once a domain name is registered, no one else can register the exact name until its expiration (which happens to be at one year or more).
That explains why you must first do a website name search before commencing the registration process.
How do you perform domain name search in Nigeria?
Conducting a domain name is simple.
You need two things;
A list of potential website names

Reputable domain registrar in Nigeria
Let's look at each in detail.
Why do you need a list of domain name ideas in Nigeria?
The reason why you need a list of website names is because of what we have already talked about.
In case your chosen name is already taken, you have another one on your list to go back to.
Now, how do you come up with such a list?
Simple.
One, brainstorm possible names you'd like to call your website.
While on it, consider the name of your business as well as the purpose of your website.
Alternatively, you can leverage domain name generators like BizNameWiz.com to generate a huge list of possible domain name ideas.
While at it, make sure you pick the best website name.
In fact, here are some pointers to help you out;
Pick brandable domains. Avoid generic ones

Avoid using numbers or hyphens in your website name

Should communicate what your website is all about

Shouldn't infringe on someone's trademarks or a spin-off of another site name
With a list on your hands, your next step is finding a domain registrar.
Who is the best domain registrar in Nigeria?
Truehost Nigeria tops as one of the best domain name registration companies in Nigeria.
In fact, it offers free domain registration.
This means that they don't charge to register your domain. But you have to pay for the name, we will see their pricing later.
Another honorable mention is WhoGoHost.
The company is among the best in not only registering websites but also hosting.
How do I get a domain name in Nigeria?
To get a domain name in Nigeria, head over to https://truehost.com.ng/
And type a name on the box and hit search;
Here is what happens;
Truehost will sort through databases checking whether someone else has registered your picked name.
If they don't find a match, you will get this message;
But if it is already taken, this is how you will know it;
If that happens, go back to the list we mentioned earlier and pick a different name.
Alternatively, you can click on the WHOIS button to see who has registered it.
And maybe strike a deal for them to sell you the domain.
But if you are lucky and your first name is available, click on the BUY IT NOW button to initiate the registration process.
You will be redirected to a safe shopping cart.
Here, you have an option to;
Get add-ons such as ID protection. This hides your personal contact information from the public

Change the nameservers to custom ones. Also, you can still do that in your client area.
Proceed with your domain registration in Nigeria by clicking on Continue.
Note;
You can add hosting to your order.
Truehost Nigeria offers the best and cheapest web hosting packages in Nigeria.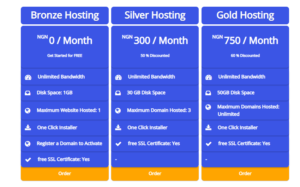 How much is a domain in Nigeria?
If you are interested in buying a domain name in Nigeria, here are their prices.
| | |
| --- | --- |
| Domain | Price |
| .com | ₦2500 |
| .com.ng | ₦900 |
| .ng | ₦3000 |
| .africa | ₦3000 |
| .net.ng | ₦900 |
| .org | ₦3500 |
You can check other domain prices here.