Posted on April 22, 2020 by Ann M
How to add MX record on Cpanel
This MX record on Cpanel is responsible for manage email service.
1. Login to Cpanel
2. Under domain section select Zone editor

3. Click manage on the domain whose MX need to change

4. On right hand side, click the Add record drop-down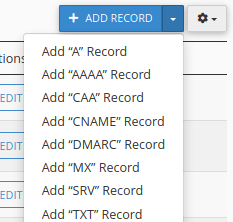 5. Choose Add MX Record
6. Fill in MX record details
7. Save changes by clicking Add record button

8. Allow for propagation to complete for changes to be seen online.