Nigeria has witnessed an unprecedented growth in the eCommerce industry over the past few years.
With the availability of affordable internet and increased mobile usage, more Nigerians are embracing online shopping as a convenient way to purchase goods and services.
One of the most crucial aspects of any eCommerce site is having a reliable payment gateway.
Payment gateways allow businesses to securely receive payments from customers online. In this article, we have compiled a list of the best payment gateways in Nigeria for eCommerce sites.
From traditional banks to third-party providers, these payment gateways offer seamless integration with popular eCommerce platforms and provide secure transactions for both merchants and customers alike.
Related: Top 7 Payment Gateways for Shopify in Nigeria
Factors to Consider When Choosing a Payment Gateway
a. Security and Fraud Protection:
When selecting a payment gateway, security and fraud protection should be top priorities. Encryption and data protection measures safeguard sensitive customer information, while robust fraud detection and prevention mechanisms help mitigate the risk of fraudulent activities.
b. Payment Options and Flexibility:
A reliable payment gateway should offer a wide range of payment options to cater to diverse customer preferences. Besides accepting major credit cards, it should also support alternative payment methods such as mobile wallets and bank transfers, enhancing convenience for customers.
c. Integration and Ease of Use:
Compatibility with popular eCommerce platforms is essential for seamless integration and streamlined operations. A user-friendly interface and a smooth checkout experience contribute to higher customer satisfaction and increased conversion rates.
Top Payment Gateways in Nigeria
Introducing Paystack, a robust payment solution that empowers your website to seamlessly process transactions through card payments and bank deposits.
We recently tested Paystack, and the results have been nothing short of remarkable.
Without a single instance of payment failure, Paystack has demonstrated unparalleled reliability, cementing its status as our preferred payment gateway for the foreseeable future.
Paystack boasts an array of exceptional features that contribute to its stellar performance. Among its highlights are Zero Setup Fees, facilitating a hassle-free onboarding process.
Furthermore, its seamless integration capabilities make incorporating Paystack into your website a breeze. Security is of utmost importance, and Paystack ensures the safeguarding of sensitive customer data through advanced protective measures.
Notably, Paystack facilitates recurring payments, allowing you to effortlessly manage subscription-based services.
The platform also empowers you to conduct transfers swiftly and securely, ensuring efficient fund disbursement. Additionally, with Paystack's Next Day Payouts, you can enjoy expedited access to your funds.
As a Paystack merchant, you hold the power to directly transfer funds from your Paystack dashboard to any bank account within the country. This level of control enhances your financial management capabilities, streamlining your operations.
Now, let's delve into the pricing structure:
Setup Fee: Paystack offers a remarkable advantage by eliminating any setup fees, enabling you to commence payment processing without incurring additional expenses.
Local Cards: For each transaction made using local cards, Paystack charges a modest fee of 1.5% plus ₦100, ensuring that your costs remain reasonable and transparent.
International Cards: Should you cater to an international clientele, Paystack supports payments from across borders. For these transactions, Paystack applies a fee of 3.9% plus ₦100.
It's worth noting that Paystack generously waives the ₦100 fee for transactions below ₦2500, providing you with even greater value for smaller transactions.
Choosing Paystack, you are embracing a payment solution that embodies dependability, security, and efficiency.
With its extensive feature set and competitive pricing structure, Paystack emerges as an unparalleled tool to optimize your online payment experience.
Then there's Rave, an innovative payment solution pioneered by Flutterwave, revolutionizing the way users engage in global transactions.
This cutting-edge platform empowers individuals to effortlessly purchase products and avail themselves of services worldwide, transcending the limitations of traditional banking systems and physical cards.
Rave surpasses the definition of a mere application; it functions as a dynamic operating system adaptable to any device, seamlessly integrating with phones, tablets, and laptops. With Rave, users enjoy unparalleled convenience as they navigate the digital landscape, providing them with unprecedented financial freedom.
One standout feature of the Rave ecosystem is its remarkable geolocation capability. This enables users to effortlessly locate merchants across the globe who accept Rave payments, effectively eliminating the stress of finding compatible establishments during their travels. To further enhance this experience, Rave integrates an advanced mapping feature, ensuring users can confidently explore new destinations without the fear of losing their way.
Embracing Rave comes with an array of benefits, starting with a straightforward and cost-effective setup. Users can dive into the Rave experience without incurring any initial fees, enabling a seamless transition into this transformative payment solution.
The platform operates on a commission-based structure, with local transactions incurring a modest charge of 1.4%. This ensures that users can engage in domestic transactions while maintaining financial transparency and efficiency. For international transactions, Rave applies a competitive commission of 3.8%, facilitating seamless global commerce without unnecessary hurdles.
By choosing Rave, users gain access to a versatile and groundbreaking payment solution, empowering them to conduct transactions effortlessly across borders. With its adaptable nature, geolocation capabilities, and transparent fee structure, Rave emerges as a true game-changer, revolutionizing the way we navigate the modern digital economy.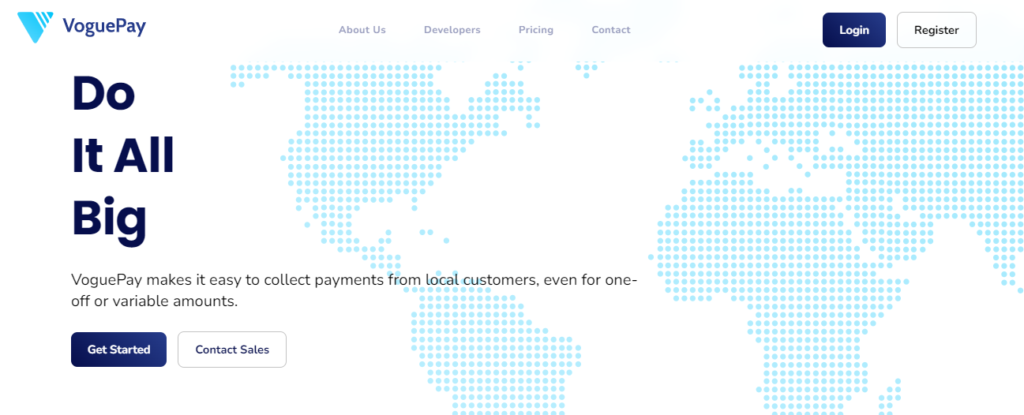 VoguePay is the ultimate solution for secure and seamless global payments.
With VoguePay's extensive worldwide coverage, individuals and businesses can effortlessly send and receive payments in major currencies, transcending geographical barriers.
What sets VoguePay apart is its forward-thinking approach to digital transactions.
In addition to traditional payment methods, VoguePay embraces the future by providing a safe and secure platform to accept payments in bitcoin. Whether you need to process one-time payments, establish recurring subscriptions, or receive charitable donations, VoguePay has you covered.
Let's explore the unique selling points that make VoguePay a standout choice:
1. Multiple Payment Channels: With VoguePay, you can cater to your customers' preferences by accepting payments through a variety of channels. Give your customers the freedom to choose the method that suits them best.
2. Developer-Friendly: VoguePay prioritizes accessibility and ease of integration, even for non-developers. Our simple API documentation ensures a seamless integration process, allowing you to start accepting payments swiftly.
3. Easy Account Management: VoguePay offers the flexibility to opt for either a business or personal account, tailoring the experience to your specific needs. Manage your account effortlessly and enjoy a streamlined payment journey.
4. Multi-Currency Support: Seamlessly accept payments in multiple global currencies, providing convenience for your international customers. Receive payments in your default currency, simplifying your financial operations.
5. Free Integration: VoguePay understands the importance of a smooth integration process. With our plugin libraries and extensions, integrating payment functionality into your website is a breeze. Take advantage of our free integration options and unlock the full potential of your online platform.
Let's now delve into the pricing structure:
Integration: Enjoy a cost-effective integration process with VoguePay, as the initial integration is free of charge. Please note that fees may apply for customization based on your specific requirements.
Merchant Verification: To enhance security and build trust, VoguePay offers two verification options. The first option, at ₦1,500, requires the Corporate Affairs Commission (CAC) registration, while the second option, at ₦2,500, accepts government-issued ID cards.
Local Transactions (Naira Cards): For transactions made with Naira cards, VoguePay applies a fee of 1.5% for transactions above ₦2,500. Additionally, there is a fixed fee of ₦30, ensuring transparency and clarity in your payment processing.
Choose VoguePay as your trusted payment partner and unlock a world of possibilities.
Thanks to their comprehensive features, competitive pricing, and commitment to security, VoguePay empowers you to navigate the global economy with confidence.
Established in 2002, this Lagos-based indigenous company has been at the forefront of facilitating electronic and digital payments, bridging the gap between businesses, merchants, and consumers.
With an impressive customer base exceeding 200,000 in Nigeria and a network that powers 11,000 ATMs, this leading payment provider has established itself as a trusted force in the industry.
One of their standout features is their affordable pay-as-you-go pricing model, charging a competitive 1.5 percent for local payments, capped at N2000.
Rest assured, there are no hidden fees or setup charges.
This esteemed provider takes pride in tailoring payment solutions to meet the unique needs of your business.
From processing large payments to offering volume discounts, multiproduct discounts, interchange pricing, country-specific rates, and more, they offer a comprehensive suite of solutions designed to enhance your payment experience.
To embark on your journey with this exceptional payment gateway, visit their website for further details and requirements.
Elevate your digital commerce endeavors with this leading African payment provider. Experience the seamless integration, reliable support, and transparent pricing that sets them apart from the competition.
Ramita
Welcome to Remita, a premier payment solution that empowers you to seamlessly receive and make payments on your website and applications.
With ready-to-use plugins, SDKs, and APIs, integrating Remita into your platform is an effortless endeavor.
Here are some features that set Remita apart:
1. Receive Payments: Provide your customers with a multitude of payment options, including Inline Payments, eCommerce Plugins, Mobile SDKs, and Recurring Payments. This versatility ensures a seamless and convenient payment experience for your valued clientele.
2. Make Payments: With Remita, you have the flexibility to pay single or multiple beneficiaries from the bank accounts registered on the platform. Choose from options such as Single Debit Single Credit, Single Debit Multiple Credit, and utilize the Funds Transfer Plugin for efficient fund management.
3. Comprehensive Balance Overview: Enjoy the convenience of viewing all your bank account balances, regardless of the financial institution, on a single screen. Remita consolidates this crucial information, enabling you to stay informed and make informed financial decisions.
4. Streamlined Payment Requests: Simplify the payment process by generating and sharing payment requests, or e-Invoices, with family, friends, and customers. Getting paid has never been easier, thanks to Remita's user-friendly payment request system.
5. Work-Life Balance: Experience true work-life balance with Remita. Seamlessly switch between your personal and business accounts whenever necessary, ensuring a smooth transition between your professional and personal financial activities.
6. Effortless Payroll Management: Whether your organization consists of two employees or boasts a workforce of 200,000, Remita has you covered. Streamline your payroll and HR management needs with Remita's comprehensive solutions, tailored to meet the unique requirements of businesses of all sizes.
Now, let's discuss the pricing structure:
Setup & Support Fees: Enjoy the advantage of a free setup and ongoing support, ensuring a cost-effective integration process.
Receiving Local Payments: For local payments, Remita charges a modest fee of 2%, with a minimum charge of ₦100 and a maximum charge of ₦2,500. This transparent pricing structure ensures fairness and clarity.
International Payments: Should you require international payment capabilities, Remita facilitates this service with a competitive fee of 4%.
Tips for Choosing the Right Payment Gateway for Your eCommerce Site
Assessing your business needs and goals:
To choose the ideal payment gateway, businesses must assess their unique needs and goals.
This involves understanding the target market and customer preferences, as well as identifying specific payment features required to enhance the customer experience and meet business objectives.
Researching and comparing payment gateways:
Thorough research and comparison of payment gateways are essential steps in the decision-making process.
Reading customer reviews and testimonials provides valuable insights into the experiences of others, while evaluating customer support and technical assistance ensures that businesses have reliable assistance when needed.
Testing and trial periods:
Testing payment gateway functionalities before committing is highly recommended. This allows businesses to gauge compatibility, user experience, and the overall performance of the gateway. Utilizing trial periods provided by payment gateways enables hands-on experience and validation of their suitability for the eCommerce site.
What To Do Next
Choosing the best payment gateway for eCommerce sites in Nigeria is a critical aspect of running a successful online business.
Factors such as security, payment options, integration, and ease of use should be carefully considered.
Related: